Written by kaitor on 7:57 PM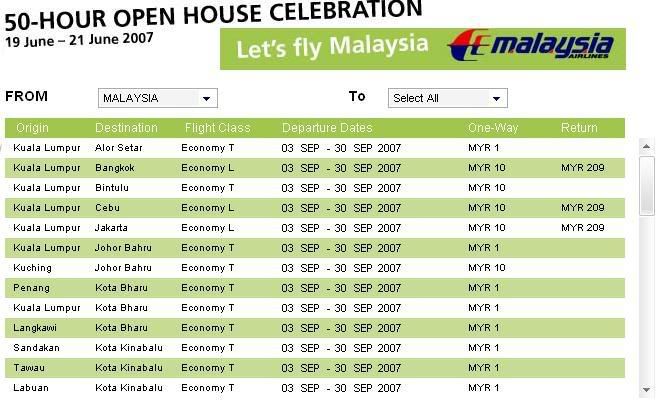 Waaaaaaaauuuuuuuuuuu cannot belive it. I guess it is the first time Malaysian Airline made a promotion like this. I was so surprise that MAS offer the ticket as low as MYR 1. Do not miss to grab the ticket from Malaysia Airline. REMEMBER you can get this very cheap ticket from their website ONLY start from 9 am tomorrow until 11 am on friday .
"CHECK OUR OPEN HOUSE SALE & ENJOY 50 HOURS WORTH INCREDIBLE FARES AS LOW AS MYR 1 "
The destination domestic and five Asean country, Kuala Lumpur to Jakarta, Indonesia; Phnom Penh (Kemboja); Cebu (Filipina) , Bangkok and Phuket (Thailand).
Departure time: 3SEP -30 SEp 2007
No Comment
| Posted in »
News