Written by kaitor on 1:49 AM
IT is unfair to generalise all artistes as being `sexily dressed'. After all, One rotten apple cannot spoil the whole barrel.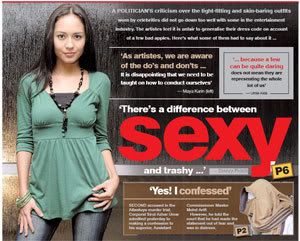 That was the general consensus of artistes and entertainment industry figures contacted yesterday on the criticism of artistes and their supposedly 'too sexy' attire.
The issue was raised in Dewan Rakyat on Tuesday by Datuk Paduka Badruddin Amiruldin (BN-Jerai), who expressed concern over the tight-fitting and skin-baring outfits that artistes wear.
Figure-hugging clothes, he said, did not reflect Malaysian culture.
He was quoted as saying that "some of the attire seemed to be made from little material, exposing skin and were too tight."
It was also reported that the Minister in the Prime Minister's Department Datuk Dr Abdullah Md Zin said Jakim (Department of Islamic Development Malaysia) had already issued 40 guidelines for the entertainment industry, based on Islamic values, which included a dress code.
Karyawan president Freddie Fernandez said generalisation is dangerous as local artistes need to compete on a global platform and hence, are required to build a certain image.
"Most of the artistes are balanced between current fashion trends and their Asian values and they know that there is a need for moderation," said Fernandez.
He said he has not seen the guidelines mentioned by the MP and said he would like to see them.
"We would like to see the guidelines so that it is easier to inform everybody in the industry.
"What needs to be done is to make the guidelines public, so that we can advise those who are involved," he said, adding that as far as he is concerned, most artistes dress moderately.
"But again, it's a matter of opinion," said Fernandez.
Recording Industry Association of Malaysia's deputy chairman, Norman Abd Halim said he is aware of the guidelines but thinks that entertainers should not be judged on a superficial scale.
A singer and a producer himself, Norman said: "We must look at the substance and whether they can bring more positive influences to the public."
He said most of the artistes have good taste and while some may have a desire to stand out, it is important to act within the accepted norms of the community.
"It has been proven that those with a 'cleaner' image are better accepted by Malaysians," said Norman.
"I think we should look at the problem from a holistic perspective and not blame entertainers because they are easy targets — local artistes should not be undermined," he said.
For actress Maya Karin, the guidelines have been made known to her since her modelling days.
"But I did not know there are 40 guidelines. As artistes, we are aware of the dos and don'ts," said Maya.
"It is disappointing that because of a few cases, we get generalised. It is also disappointing that we need to be taught on how to conduct ourselves," said Maya.
Actress Umie Aida thinks how he or she dresses is the right of each individual.
"The younger ones may want to try out something different but just because a few can be quite daring does not mean they represent the whole lot of us," said Umie.
She said it is better to focus on the positive things that can be done to improve the industry, rather than concentrate on the misconduct of a few.
"It will be more worthwhile and beneficial for all quarters to try to improve the industry," said Umie.
Celebrity Sazzy Falak thinks there are more important things to be discussed than the attire.
"What constitutes sexy, anyway? There's a difference between sexy and trashy.
"The most important thing is to be respectful and to be able to carry yourself in different environments so as not to upset anyone," shrugged Sazzy.
Malaysian what do you think, are they too sexy ? I guess NOT because its still better compare to the other country. em.. whatever... everybody get their own reason to state the sexiest level.
source:The Malay Mail
No Comment
| Posted in »
Celebrity
,
Entertainment
,
Information
,
News