Written by kaitor on 6:01 PM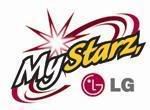 My Starz LG will come again. I saw the advertisements started broadcast in TV3. What will do you expect from this reality show. Who will host this reality show and did the theme song remain same?.

Here is the new logo for MyStarzLG2 logo, a bit different from session 1.
Ops… I'm not going to talk about the logo, but I just wanna inform you guys there will be an audition. It will start on 26 July at Johor Baharu until 24 August at Kuching. Here is the schedule of the audition. You still have a time to practice, do not let the chance gone.


Here is the list of song that will be used in the audition. Good luck… Thus who read this post, and successful.. I wanna watch you Live on TV. Please leave your comment… I might become your fans. Remember be your self and do not shy to show your brilliant talent.


Malay Songs
Artis Perempuan
Balada
1. Terlalu Istimewa (Adibah Noor)
2. Awan Yang Terpilu (Ning Baizura)
3. Ku Seru (Misha Omar)
Rancak
1. Satu Harapan (Jaclyn Victor)
2. Tak Tercapai Akalmu (Elyana)
3. Ku Milikmu (Siti Nurhaliza)
Artis Lelaki
Balada
1. Hanya Kau Yang Mampu (Aizat)
2. Mahakarya Cinta (Faizal Tahir)
3. Mungkir Bahagia (Hazami)
Rancak
1. Gemuruh (Faizal Tahir)
2. Janjiku (Sofaz)
3. Angan Dan Sedar (Mawi)
English Songs
Artis Perempuan
Balada
1. Hero (Mariah Carey)
2. Because of You (Kelly Clarkson)
3. When You're Gone (Avril Lavinge)
Rancak
1. Tatto (Jordin Sparks)
2. Irreplaceable (Beyonce Knowles)
3. No One (Alicia Keys)
Artis Lelaki
Balada
1. You're Beautiful (James Blunt)
2. With You (Chris Brown)
3. Apologize (Timbaland)
Rancak
1. When I'm Gone (Simple Plan)
2. Because of You (Ne -Yo)
3. Beautiful Girl (Sean Kingston)
1 comments
| Posted in »
Reality Show
1 comments: Responses to " My Starz LG 2 *Updated "

By kaitor on July 27, 2008 at 1:17 AM

this is first comment using comment form under post.. kaitor