Written by kaitor on 8:39 PM
Since last month, we will heard everyone talking about BERSIH 2.0 campaign either in radio, newspaper , radio even widely discuss in internet. BERSIH 2.0 is a combination of Non Government Organizations (NGO) in Malaysia. Their main objective organize this campaign is to ask batter or improve Malaysian election to be more transparent and asking the government to give fair access to the media.
Government already try their best to avoid and stop this BERSIH 2.0 campaign but seem more and more give support to BERSIH 2.0. Some of Malaysia student in Australia already confirm to support this campaign. Sabah also maybe will have BERSIH 2.0 on 9 JULY 2011 as it had been confirm by ATAMA who will lead BERSIH 2.0 campaign in Kota Kinabalu as shown in picture below.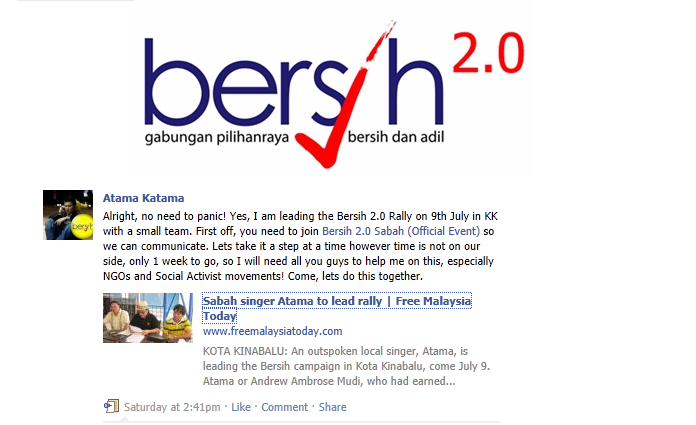 *I had use the white background of the image because YELLOW color seem very sensitive for now.. but white is symbolize clean aka bersih too … :P
An outspoken local singer, Atama, is leading the Bersih campaign in Kota Kinabalu, come July 9.

Atama or Andrew Ambrose Mudi, who had earned the wrath of Barisan Nasional leaders before for his outspokenness, told a press conference here today that he and his friends Michael Liew and Chester Pang, had yesterday applied for a police permit for the peaceful assembly at the city's Padang Merdeka here.

"We decided to apply for the permit, with complete documents such as the programme for that day and a list of the organising committee members," he said.

Asked what would happen if the police deny them the permit, Atama, 36, said they would re-apply and "will cross the bridge when we come to it".

Atama, who is a member of MCLM (Malaysian Civil Liberty Movement), said that he was leading the Bersih campaign as a civil movement.

"We are exercising our rights in accordance with the Federal Constitution," he said.

"We have formed an ad hoc committee to get the various civil movements to come under one umbrella to support the Bersih rally in a disciplined and peaceful manner," Atama said.

The Kadazandusun singer, speaking in fluent English, expects 500 to turn up for the march.
1 comments
| Posted in »
News
1 comments: Responses to " Atama lead BERSIH 2.0 campaign in Kota Kinabalu Sabah. "

By Anonymous on July 9, 2011 at 5:39 AM

kau lah suara orang sabah...mari kita ramai-ramai sokong usaha murni bersih..bangun orang sabah...