Written by kaitor on 9:46 AM
Facebook is the number one social web in the world and Malaysia is among the top country Faceboook user. Facebook give you the opportunity to post notes or status and receive comment from other facebook user. One again a war in Facebook between Atama and Datuk M attract attention from public especially sabahan. It becomes a trend now, if someone have an issue against someone, it will come to facebook to capture public attentions and get faster response from the other side.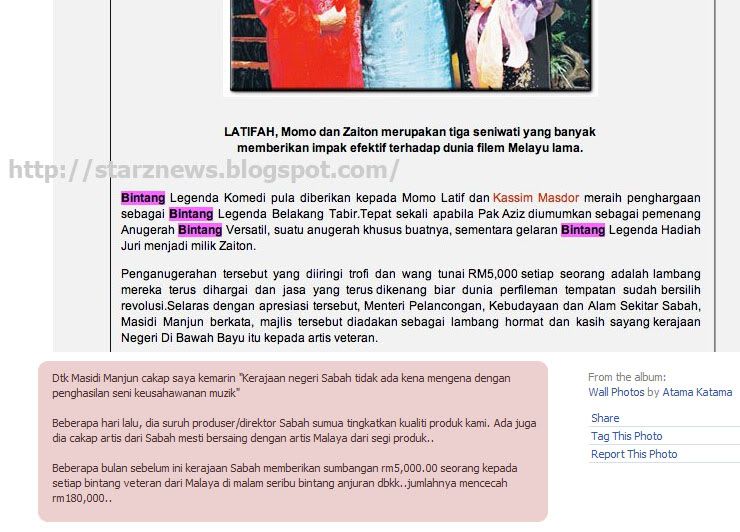 Maybe some of my readers still wondering who is Datuk M , he is Datuk Masidi Manjun the Minister of Tourism, Culture and Environment . From my point of view this issue was arise between Atama and Datuk Masidi is regarding on the payment as an appreciation. In a few months back Sabah state give donation to the veteran artists in one occasions "malam seribu bintang " organized by DBKK. Atama claim the total amount of the donations reach out to RM180 000.
Atama was brave to highlighted this issue in Facebook and it attract my attentions. Atama is the one who want to stand in front of Sabahan artists trying to get their rights. We have to realized now days, everybody trying looking the golden point to take an advantage for some reasons. The main reasons I can see here looking for chance for sabahan artist being honors as others artist from peninsular Malaysia. I understand artists in sabah didn't have the opportunity as they get in peninsular Malaysia. I guess Sarawak artists also in same situations as us in Sabah. I believe most of our sabahan artists still not registered with MACP and hoping the magic happened in front their face with thousands paid invitations. Believe me, it wasn't work , go and register for MACP and start to earn your passive income today. Maybe there are some communication barrier between the artists and respective associations somewhere else because the awareness for registering MACP is terrible.
Our Minister of Tourism, Culture and Environment had look into this issue but still not have the effective results. For me Minister of Tourism, Culture and Environment is the one who provide the solutions and support already open the path for our local sabahan artists to get involved more seriously to boost the entertainment in sabah but some of them still in their comfort zone, "wait and see". If our local artists still stick to this attitude I'm not surprise more and more artists from peninsular Malaysia will dominate our local music industry. Again it back to you to start the changers, do not eat the fish but learn to fishing by producing a quality product.
Again from my point of view, Datuk Masidi Manjun also had delivered his job well and we have to understand nobody is perfect. Some of our decision or actions might hurt someone in the beginning but at the end of the day the good result follow. He had try to fight for sabahn artists to get paid at lease RM 2000.00 but how the other agency or organizations response to his suggestions? DBKK organized "malam seribu bintang " but did they included sabahan artists? For me the main problem here is the organizer which is left behind our artists. It will be nice if some of our local veteran artists honor same as what the peninsular Malaysia artists. If DBKK response to Datuk Masidi Manjun suggestions then some of our local veteran should be in the list.
This is might a good example for us in sabah, ANUGERAH MUZIK DAYAK (AMD) 2010 was highlighted on Melodi (TV3 ) and was successful. When Sabah will have the same event to appreciate our sabahan talent. Where is Sabah Local Artist Association (PERTISA) functions who have the ability to be the "middle man" between Ministry and artist? Why not make the Anugerah PERTISA as annual big event in sabah? As I remember there is only once Anugerah PERTISA 2008 . Relaxes it not the time for us to pointing who is done right who is wrong , we had working very long time ago to fight for the right for sabahan artist but until now seem there are no changers . Now we have to be more tolerate with each other's and try to deliver our idea and comment in a polite way so everybody will cool, easier to have round table discussions.
3 comments
| Posted in »
News
3 comments: Responses to " Atama against Datuk M? "

By Rene Barrow on November 25, 2010 at 10:33 AM

I think you're right...there needs to be a calm round table discussion.

Both Atama and Datuk Masidi want the best for Sabahan artists, I am sure of that. Similar goals, but different ways of doing it. There needs to be some way of meeting in the middle.

By Anonymous on November 25, 2010 at 5:55 PM

Atama gets very personal on the issue while Dtk M presented his arguement well and based on facts. Since Dtk M mentioned that the RM5000 contributions to Malaya veteran artist on that particular functions was donated by individuals, why dont Atama ask Dtk M to reveal names of the donor/s.

Talking about double standard, how about this: http://yangkalamai.blogspot.com/2008/12/anugerah-khas-yab-ketua-menteri.html
Mr Ambrose Mudi and other veteran Sabahan artist was given a recognition by Sabah State Government.

By Anonymous on November 29, 2010 at 12:28 AM

Very interesting issue. I am sure it is for the best of everyone in the land below the wind. It is the poorest state in Malaysia. I don't blame the fella (Atama) for breathing up the neck of the government. The Johor born rapper Namewee speaks about social-political-racial-ills in Malaysia. He has shocked many. Now we have a young voice from Sabah.

Malaysians for change.