Written by kaitor on 8:39 AM
As you all know, #No 1 English Radio Station in Malaysia, Hitz.FM already officially broadcast live from Kota Kinabalu. This was really great news for us sabahan to have our local content and information on No#1 English Radio Station in Malaysia. Yes I admit… I'm fan of Hitz.FM, and every morning I will listen to gotcha call. I also enjoy the songs played and Hollywood update every morning. Since Hitz.FM promises to provide local content I really excited to hear our local songs played on Hitz.FM. I was spend my whole day today driving my car around kota kinabalu city, I listen Hith.FM. As usual 10 in the morning to 1 afternoon, it was broadcast live from Kota Kinabalu studio.

I was a bit upset because there are no sabahan English songs played on Hitz.FM during Cassie and Rica on Air. Hey guys… it the best time for us to help improve our local music industry especially on English songs. If sabahan artists not given an opportunity and chance to played their song on Hitz especially during "sabah sections 10 am – 1 pm" , that means our local music industry will never grow up. I believe all the artists are really happy when heard their song played on top radio stations such as Hitz and it will encourage them to work hard and produce more and more songs in the future with high quality. I admit in sabah we still have very limited artists produce an English song but It doesn't mean we left them behind. It time for helping them.. believe me.. in the future there will be more and more Sabahan artists will produce English songs if there are place and space for them to put their songs.

Maybe there will a few standard need to be fulfill before the songs can be played on Hitz , but why not give them a try first and advised for improvement. There are few Sabahan artist might have good quality of English songs such as Terry Peter, Atama, Andalusia, Ateng, W.O.R.M and Donatello. I highly recommend Cassy and Rica to look for their song and believe me tier song are not bad.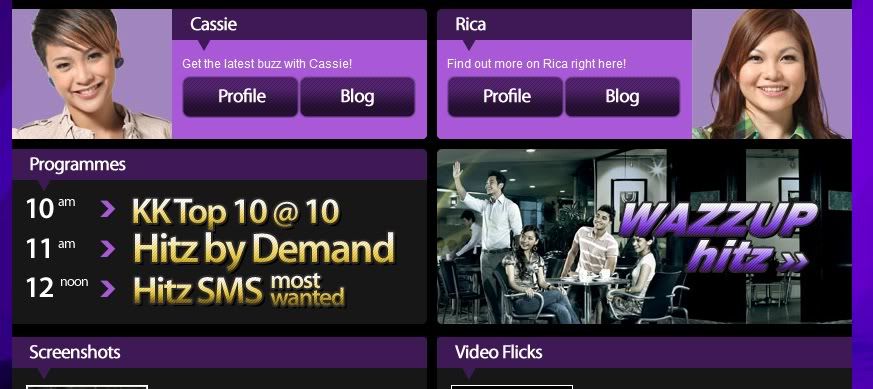 I check the programmes which broadcast live from Kota Kinabalu studio start 10 am to 1 pm on HItz.Fm official website , there are only 3 sections KKTOP 10, Hitz by Demand and HITZ SMS (Most Wanted). It will be good enough if 1 hour was given for Sabahan artist zone and I believe it will attract more listeners. It will never work if just pointing from one side onle, means Sabahan artist also need to work hard to compose and produce quality songs. Good luck all and have a wonderful Christmas and New Year Celebrations .. do not forget … HITZ also have their new year countdown party at 1Borneo .
No Comment
| Posted in »
News