Written by kaitor on 2:25 AM
Are your band good enough and ready to perform as opening band for wali band live concert in stadium likas? Wali Band is one of the big name and had give an big impact in Malaysian music industry , some of their song dominate the Malaysia radio stations. One of the popular song I always heard from online or frequency radio is "Cari Jodoh". Their music genre also had influence few band in malaysia. Now it is the time to capture the public attentions by performing on Wali Banc Live concert in Stadilum Likas.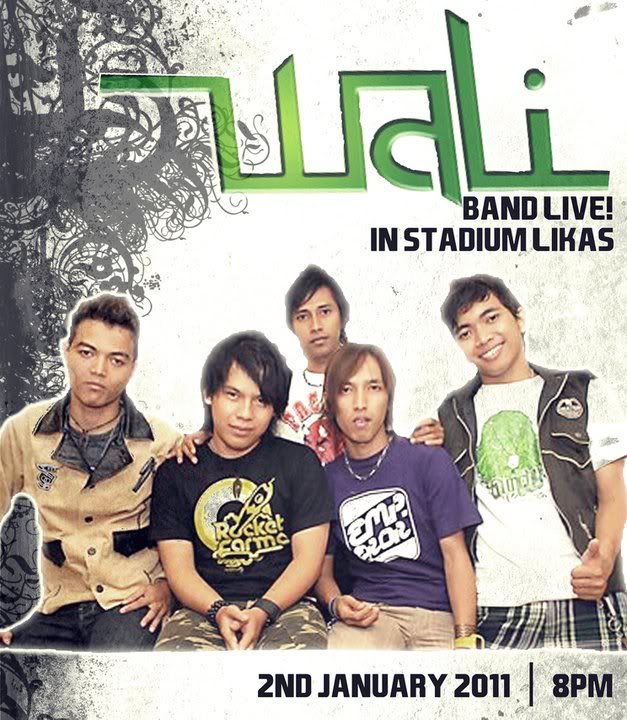 I had get some information that this concert is organized by Borneo Music Portal (BOMP) and it had officially announced in their official Facebook Fan Page. Did you still remember one of the hottest online radio deejay Salipar Jipun? He was starting from his own internet radio , and after that he work with Sabahan.fm , now he become the producer for BOMP and at the same time as deejay. DJ Salipar Jipun posted in Wali Band Live in Staduim Likas Fan Page that, BOMP are looking for 6 band which energetic and entertaining. Now it's your time to tell the world that INDIE band are better than the conversional band. I believe most of you dreaming perform in a big concert and international , wow… it's a big dream .. why not start your dream with Wali Band Live in Staduim Likas.
There are few lists of band who interested to perform during Wali Band Live in Staduim Likas as listed below.
1.PIBS ~Project IndieBand Sabahan~
2.The Cosmic
3.WORM
4.The Ariez
5.Frontmancompany
6.WhyLow
7.Not you jupiter
8.The Mines
9.
10.
11.
12.
13. ...
Hey gu.ys… it not too late to submit your band name because BOMP still accept it and they have their own system voting to determine who the final 6 bands are. Hurry … give a call to this mobile number number … 019-532 6399 (Dj Salipar Jipun).
Terms and conditions:
1. No payment but your band will featured in newspaper and entertainment magazine.
2. Automatically join BOMP - will help you on the album sales and promotions
3. Your band pictures will upload into Wali Band Live Concert in Staduim Likas Facebook Fan Pages and public will vote to determine which band will perform as opening band.
Details about Wali Band Live in Staduim Likas :
Date : 02hb JAN 2011
Time : 7.00 Malam - 11.00 Malam
Venue : STADIUM LIKAS, Kota Kinabalu
Ticket:
RM 22 (Adult)
RM 7 (Children)
RM 40 (Adult , rooftop)
RM 20 (Children, rooftop)
VIP + Dinner with Wali Band (RM 100 – Adult, RM 50 - Children)
Ticket are available at:
1) Sinar mustika Penampang,Putatan,Bundusan & Inanam
2) Miza Enterprise kedai Digi (same row to standrad Supermarket Putatan)
3) De Beaute Land (upper of Bank Rakyat Cwgn Penampang)
4) Puteri Beauty Boutique Wawasan Plaza (Near to Celcom centre)
5) Sonia Reflexoloig Kinarut
6) Restoran MoM's cafe Taman Jumbo, Petagas (Near Koboi Town)
7) Restoran Alamanda Api-Api Centre
8) The Place Api-api Centre
9) Re' Sari Ayu Kingfisher, Likas (Near to Restoran Mawi same row to
Gaint Supermarket)
10) Stadium Likas, Kota Kinabalu
celebrate your new year by attending Wali Band Live Concert in Staduim Likas !!!! it must be exciting ....
No Comment
| Posted in »
Celebrity
,
Concert
,
Event