Written by kaitor on 5:30 PM
My previous post talking about AMP: Recording quality issue and I had mention about chart for sabahan local song either in ERA FM or HITZ fm. Today I find out that this chart already officially started and there are 12 songs in the chart .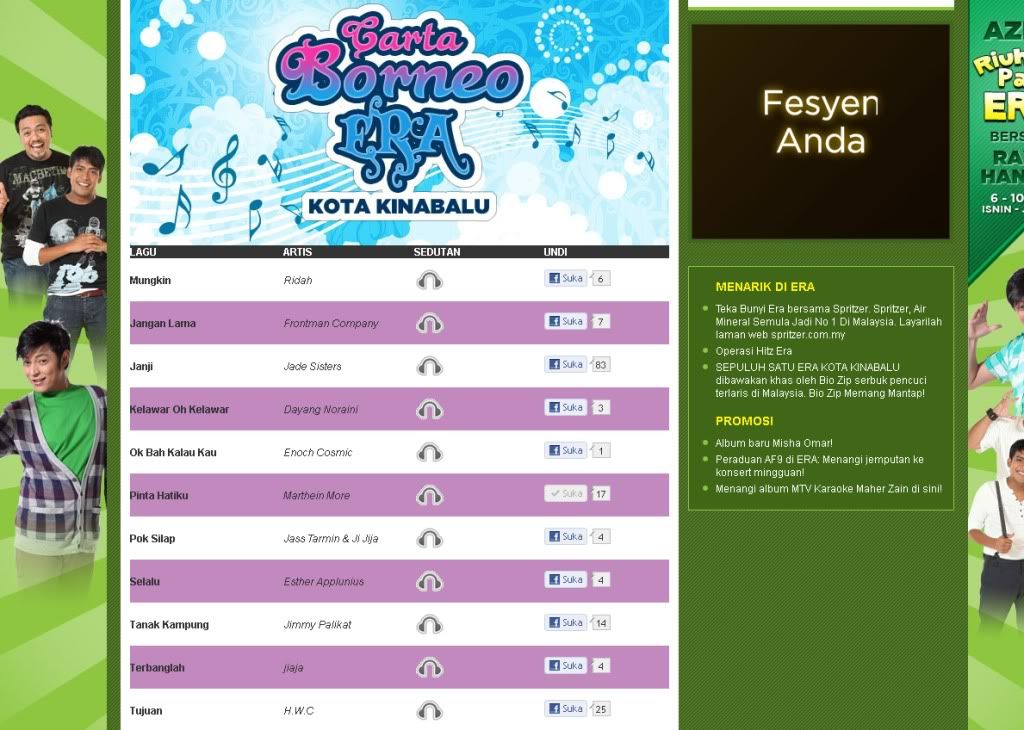 One of the songs listed in this chart is Pinta Hatiku from Marthien More and composed by Julius Ebin. Below is the link which you can listen to demo and vote . Do not forget to listen Carta Borneo Era every Saturday 11am to 12 pm.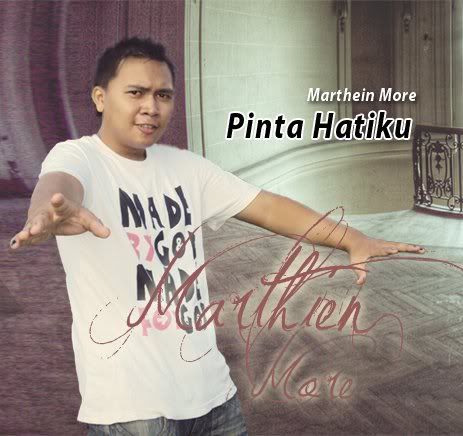 DEMO
VOTE
Pinta hatiku"Marthien More" by butod
Lyric :
Tiada lagi kata .
yang dapat ku ungkapkan .
biarpun telah berlalu .
ku tak mampu melupakan segalanya .
tiada lagi tawa .
hanya jiwa yang sepi .
mengenangkan kembali .
perasaan hati ini .
impian ku .
apa ertinya impian kini tiada .
hanya ku mampu berdoa .
hanya satu yang ku pinta .
segalanya kembali .
pinta hati ku .
impian ku .
biar lah ia menjadi nyata .
8 comments
| Posted in »
Single
,
Songs
8 comments: Responses to " Carta Borneo Era Kota Kinabalu: Vote for Marthien More - Pinta Hatiku "

By Anonymous on May 25, 2013 at 11:31 AM

For any kind of luxury item of consumption, MAD (Money, Authority and Desire)
is required. Regular workshops ensure that the staff at PVM Radio subdivision
is not only up to date with the latest technological innovations, but
also ensures that the customers from diverse backgrounds are offered the best possible services to suit their tastes.
Many people will be happy with replaceable batteries for home use and occasional outings.


my weblog ... radio y tv cubana vivo

By Anonymous on May 29, 2013 at 9:25 AM

(Game scheduled for December 15th with Utah State playing Toledo).
It is an adventurous game filled with fun and excitement.

Making your game play is the next phase you'll be focusing on.

My blog post Pedro

By Anonymous on May 31, 2013 at 6:03 AM

0 megapixels, created-in flash, motion picture captured. Don't think you need an expensive camera and equipment setup either. This lets you manage exactly how wide the camera shutter opens and the remaining settings are governed automatically to provide you with an excellent picture.

My blog post ... Mouse click the following web site

By Anonymous on June 9, 2013 at 4:15 PM

For any kind of luxury item of consumption, MAD (Money, Authority and Desire) is required.

So your personal, non-commercial, watercraft
is exempt from a licensing requirement. Another radio commercial production tip to chew
on is to make sure the audio quality is excellent on any spot your produce.


My webpage :: radio controlled trucks youtube - devondaum.tistory.com -

By Anonymous on June 10, 2013 at 10:57 AM

Like any game, when we stay within the rules, we score, and when we play outside
the rules there of course is a penalty. Imagine never having to worry
about what to wear to work, and even the infuriating traffic jams that never seem to end.

In this addictive puzzle game, catch that damn fly and avoid those
tricky obstacles.

Also visit my blog post; next page

By Anonymous on June 17, 2013 at 12:47 AM

Most people cannot afford the ridiculous prices that tradition radio sells for.
The best internet radios provide around thousands of channels from all over the world.
There are sophisticated Wi-fi Internet radios available now, which are available complete with speakers, are portable and do not require a computer.


Feel free to visit my web page ... internetradio aufnehmen
()

By Anonymous on June 17, 2013 at 1:53 AM

Sure, there is a mixture of art in everything that people do and
say, but what exactly do I mean. This side slider enables quick typing
of the text, probably to mail or type some important information
for future use. So the next time you want to listen to new music you wouldn't here on
commercial radio, consider Internet radio.

my site :: internetradio aufnehmen

By Anonymous on June 18, 2013 at 3:00 AM

When we choose to do the opposite of nothing, then we can do something to help others and make a difference.
Caution: when a hole is made in a can, there may be metallic edges that can cut one's mouth. Making your game play is the next phase you'll be focusing on.


My web page - just click the following web site ()