Written by kaitor on 7:03 AM
Have you ever watch XPRESI KEMBARA? If I didn't mention the channel you should know it. For those who didn't ever have a try watch Radio Television Malaysia (RTM), you should tune into channel 101 (for astro user) or TV1 every Saturday on 11.30 am.

XPRESI KEMBARA was started middle year of 2009 and it continues after successful attract viewer in 2010. With the effort of RTM to provide new tv program with more excitement and new concept. XPRESI KEMBARA will invite the independent artists as their special guess such as 6ixth Sense, Yuna, Bunkface, Azlan & The Typewriter, Couple, Black, Grey Sky Morning, Ana Raffali and many more.

Usually XPRESI KEMBARA will go places in peninsular Malaysia but Aizat and The Band is very lucky because they had fly crossing the sea coming down to Land Below the Wind, Sabah. Destinations of this XPRESI KEMBARA are Semporna, Pulau Sipadan dan Mabul and Taman Laut Tun Sakaran.

Some of their activity around semporna are going to Pasar Kering Semporna and Bukit Tengkorak. For those who haven't an experience to collect fist from the net, this might your time to know it because Aizat and The Band tried this activity. Beside that Aizat and The Band going to Pasar Kering to experiences the lifestyle in semporna. They had entertain Pasar Kering Visitors by performing few song or in a simple word, basking. Exercise of fitness are really needed when you want to climb Bukit Tengkorak . Again watch RTM 1 this Saturday on 11.30 , how Aizat and The Band climb Bukit Tangkorak to enjoy the nice view on the top.

Did you still remember, the Malaysian film Duyong? Shooting was done in sabah right? Again XPRESI KEMBARA bring Aizat and The Band visit Holiday Resort . Few activitys was done around Pulau Sipadan and Mabul such Turtle Hatch and Snorkeling.

Aizat and The Band alsogiven the chances to experiences the lifestyle of Bajau Laut, which are difficult and struggling for their life. I also hope this episode will open the eyes of our government to thing something for improving the Bajau Laut lifestyle.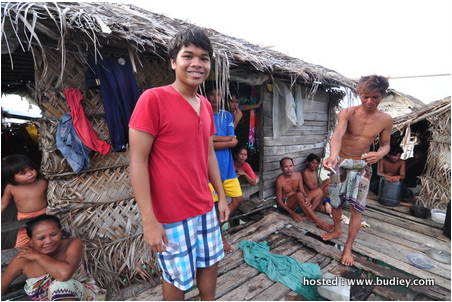 There are much more activity done by Aizat and The Band at Semporna and Pulau Sipadan so do not forget watch RTM 1, 11.30 every Saturday. I also hope RTM will invite sabahan indie artists for their TV program XPRESI KEMBARA.
2 comments
| Posted in »
Celebrity
,
Tv Show